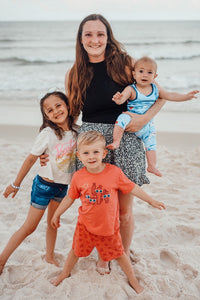 Meet The Egeler's
In 2017 our first child was born! She brings an incredible amount of spunk, and joy into our lives! Shortly after she was born I took the leap, and opened my first small shop selling handcrafted bows. Fast forward to 2020 when we welcomed our second babe, a little boy! In 2022 we decided to add one more beautiful soul to our family, he was born in November!

I dove into digital designing slowly, and after a couple of months Egeler Designs became a full time career for me! I am passionate about the art I create, and love seeing everything my customers make with my designs!

My husband has joined me in creating digital art, with his brand Spaced Out Digitals. We are having a tremendous amount of fun creating art for all of you! Thank you for the continued love, and support! We're here if you ever need any help!